Nightmare Temptation Academy
A downloadable game for Windows and macOS
Created by Lena NW featuring Costcodreamgurl & frenz
Seduce your classmates while the world around you crumbles! Resist temptation while attempting sanity! Go to prom and become a decadent slave to your desires! Confront mortality and make erotic fan art!

Rap battle to save your soul! Cease to exist but make it sexy!
CONTENT WARNING//SPOILER ALERT: graphic cartoon depictions of violence, sex, sexual violence, mild incest, ephebophilia, animal cruelty, tasteful bestiality, suicide, self harm, mental illness, drug abuse, sexualization of school shooters, reference to real-life atrocity, desecration of iconic childhood cartoon characters, amateur voice acting, cultural appropriation, typos, sick rhymes, a coping strategy…
Featured on Bitch Media & Audiofemme!
Nightmare Temptation Academy is a dating-simulation/choose your own adventure/roleplaying game and rap musical. The game is set in high school in an alternate universe at the end of the world. Visual tropes from anime, videogames and early 2000's digital culture are referenced and remixed to evoke nostalgia and further allegorize the uniquely Millennial adolescent experience of apathy, desensitization, and confusion caused by first-generation internet addiction and media oversaturation. A binary dialogue decision-making gameplay expresses the protagonist's struggles with intrusive thoughts and managing impulsivity. This character-driven gameplay also explores group dynamics, relationships, morality, sexuality, consent, and manipulation. The soundtrack is original, written and performed by the developer Lena NW.
The last five half-human half-animals alive (the dominant sentient species) all go to high school together. This nameless high school is ruled by a machine; the purpose of the machine is unknown, as its creators and relevance of the machine to a larger civilization have been obliterated long ago. In fact, this high school rests on the verge of total annihilation surrounded by the endless abyss of oblivion. The machine glitches as it deteriorates. Despite the complete futility of living on; the students are forced to continue attending high school because they are brainwashed and sedated by the machine. The students are unable to fully grasp their circumstances, having no context for where they are in time or space, so they continue to enact the trifling social interactions typical of high schoolers.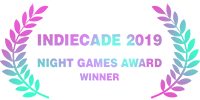 You (the player/protagonist) are a depressed, anxious, suicidal, alienated 14-year-old girl. You were spawned from a post-mordial goop; the spirits, the debris, the carcasses, the residue of all that once was. The ghostly spirits that reared you, raped you in the process of creating you. You live your life carrying the weight of the trauma that is your entire existence; intrusive thoughts and impulses are ghosts that possess you. Your behavior and the relationships you form with characters as the collective crisis point culminates is up to you (unless of course... you sell your soul).


CREDITS: Concept, story, dialogue, lyrics, performances, music videos, characters, environment, graphics, animation, and implementation by Lena NW WITH KEY CONTRIBUTORS: Costcodreamgurl (minigames, environment, graphics), Moon Bounce (music production, voice acting), Push Push (voice acting, vocal performance), PhaZero (voice acting), Clara Bizna$$ (voice acting, vocal performance), Clarissa Allie (voice acting), Fifty Grand (instrumentals), Rozz Dyliams (instrumentals), Teen Girl Squad (instrumentals)

| | |
| --- | --- |
| Updated | 12 days ago |
| Status | Released |
| Platforms | Windows, macOS |
| Rating | |
| Author | Lena NW |
| Genre | Role Playing |
| Tags | adult, Dating Sim, hentai, high-school, hip-hop, Horror, Mental Health, Post-apocalyptic, relationship, Story Rich |
Download
Click download now to get access to the following files:
Nightmare Temptation Academy Download for Mac
Nightmare Temptation Academy Download for Windows